Whenever we seek for our careers, we often contemplate on what we are looking for in a company. We often ask ourselves if this job will have good benefits, good pay or would it be beneficial for my skills. We fix our resumes and showcase on what we are capable of, of what we can do, our experiences.
Most importantly, we want a career that not only has good pay but a career that will allow us to reach the full extent of our talent, knowledge and skills.
And in this day of age, social media platforms have spread across the globe and is proving its benefit not only for news and entertainment, but it also paves the way to search for your ultimate career goal.
Like other online platforms, LinkedIn is the best description of marketing your abilities, of letting other clients know what you are capable of and what you can do that will be beneficial for their company and of course, for you. It is a win-win situation!
I remembered starting out towards my goal on being a virtual assistant and dedicated my entire hour for a day on LinkedIn. And by exercising myself with these habits I was able to attain a reputable amount of views on the networking site and getting two times of my messages weekly from other recruiters.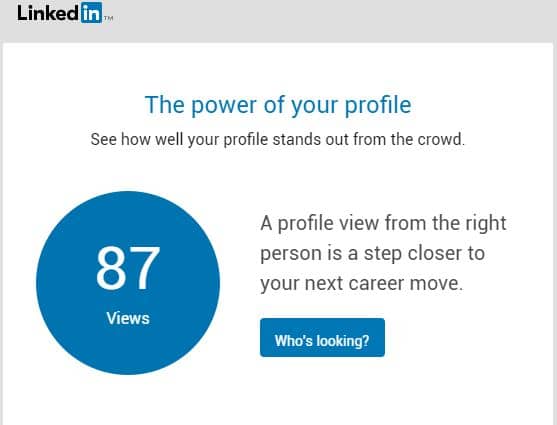 To know the journey that I partake, let me introduce you to the 5 simple methods that I used religiously for my LinkedIn profile.
The Importance of being specific
It is important to be wary of your brand. Make sure to complete your profile and provide specifics of your job title. This is to manage your title and for you to get the relevant client for your career, it is not enough that you get a job, it is important to build a career of what you want and what you always want to do.
Sharing Contents with utmost relevance
Share as long as you want but do it with relevance and strategic goals. Share your contents with everyone related to your career path. Whether it be it, clients, colleagues or acquaintances make sure that you stay relevant without bombarding them of your feats. Consider this step as spreading your identity, after all the goal is to build connections professionally. Take note as well that you should set your profile as public if you're looking for a job so recruiters can see your profile.
Furthermore, you can even post your resume in your LinkedIn profile for recruiters to be aware of your niche and your capabilities.
Selling yourself
Remember to always boast your skills without overdoing it. Let your readers know of your contents and what you can achieve. Let them know of your expertise, this will not only make you interesting to the eyes of the readers but can also gain professional growth. Showcase your skills and improve upon it. Let them know of your drive and work ethics. Perhaps this will be the best way to improve on your connections and your network.
Be Creative
In order to expand on your connections, you have to ensure that your contents are relative and unique. Keep a keen sense of your articles and ensure the quality of your post. It is fine if you do not have that much to post but make sure that you make it as creative and as unique as possible. You do not want to bombard your connections with non-profitable ideas. Invest in your knowledge and ensure the quality of what you will provide and never hesitate to broadcast what is in your mind especially your achievements using hashtags in posts (at least 2 hashtags).
Get involved with other LinkedIn groups
The goal is to build connections and increase your reach on LinkedIn. One of the key things to note on utilizing Linkedin is to enhance our way of promoting ideas, sharing contents, and finding career growth opportunities. It is also ideal for you to join LinkedIn groups that can benefit your career, participate with connections, connect with recruiters, CEOs, connect with people similar with your niche/job/services offered, join groups related to your niche. This will be a great way to post ideas and attract potential clients.
CONCLUSION
Furthermore, never give up. Choosing a career is a tedious process. LinkedIn is perhaps the most useful social media site to choose your career but always remember that you may not attract clients at first but as long as you keep your profile detailed, precise and up to date you will get to it soon. LinkedIn is a road to build a career but it is always up to you to always cross that road and make the most out of it.
Read next article: Pros and Cons of being an Online Freelancer