In today's fast-paced, ever-changing corporate landscape, virtual assistants is encourage receive training. Businesses that rely on remote workers to conduct their day-to-day operations will find a highly skilled virtual assistant invaluable. If used correctly, a virtual assistant can help business owners save time, better manage their work, and get more done in less time.
In other words, if you're a business owner looking to properly train your Filipino virtual assistant, you've come to the perfect place.
In this blog, we will discuss some of the best ways to teach your Filipino virtual assistant so that you can get the most out of them and help your business flourish.
Virtual Assistant Training Tips
Before you put your Filipino virtual assistant to work, it can be very helpful for your business to train them. You can rely on your virtual assistant to handle chores and responsibilities because you know they have the necessary skills and knowledge. This makes it easy to expand your company.
A well-trained virtual assistant can also save you time and help you finish your work faster, giving you more time to work on other parts of your business.
They can also take on extra duties because they understand how your company works from the inside out.
By taking the time and making the effort to teach your virtual assistant, you can build a stronger and more productive working relationship. This will lead to better work for your organization and better results.
Now that you understand why training your virtual assistant is so crucial, let's take a deeper look at these recommendations for educating your Filipino virtual assistant to be as effective as possible.
1. Assessing the Strengths and Weaknesses of Your Virtual Assistant
Before you begin working with a virtual assistant, you should be aware of their strengths and weaknesses. You can use this information to decide how you want to work with your virtual assistant.
You might ask yourself the following questions:
What do they enjoy?
What do they dislike?
How do they work best?
Do they have any previous experience related to the job?
These questions will help you decide how you will collaborate with your virtual assistant and how you will teach them new skills and jobs. If you don't know how to communicate with your virtual assistant, you could consult previous clients. This is an excellent method for determining what works and what does not.
2. Creating a Customized Training Plan for Your Virtual Assistant
A customized training plan is an excellent way to ensure that your virtual assistant receives everything they need to do their job.
Before you can help them do their jobs well, you need to find out what kind of help they need. You'll be able to teach them specific skills and tasks this way.
Consider their abilities and how easy it will be to teach them new ones.
You may decide, for example, that you need a virtual assistant who is skilled in social media and writing.
You should also consider what skills you want to teach.
3. Setting a Clear Expectations and Goals for Effective Communication
Setting clear expectations for your virtual assistant is essential to guaranteeing that they can do their job effectively and contribute to your company's growth and success.
If you do not make it clear what you expect from your virtual assistant, they may struggle to know what to do. This could lead to misunderstandings and costly errors.
Start by writing down their job duties and any specific tasks you need them to do. This will help your virtual assistant know what you expect from them. Remember to communicate any deadlines or timelines that must be met, as well as any standards or quality metrics that must be met.
It is also important to establish communication protocols and expectations from the start. You can tell your virtual assistant how often you want to check in and get updates, and how you want to talk to them (email, phone, or video conferencing).
4. Using Tools to Train your VA
Training your Filipino virtual assistant is an ongoing process that requires time, effort, and the proper resources to be successful. Traditional training methods like manuals and presentations can be helpful, but they might not be enough for training a virtual assistant, which often needs a more hands-on and interactive approach.
There are many benefits to using tools to train your virtual assistant.
For one thing, it can help you keep track of your virtual assistant's progress and see how well they are doing.
This makes it easier to see where your virtual assistant might need more help or training. It can also make the training more interesting and interactive, which will help your virtual assistant stay interested and motivated throughout the process.
Some useful tools for virtual assistant training include:
Tools for project management, such as Ora, Teams, Asana, or ClickUp, can be used to assign and track tasks, set deadlines, and track progress.
Video conferencing tools like Zoom, Meet, and Skype can be used for both virtual training meetings and providing feedback and help in real time.
Loom and TechSmith are examples of screen-recording software that can be used to create training videos and tutorials.
MS 365 or GSuite are examples of knowledge base or documentation tools that can be used to store and share training materials and resources.
5. Developing SOPs to facilitate the work or your Filipino VA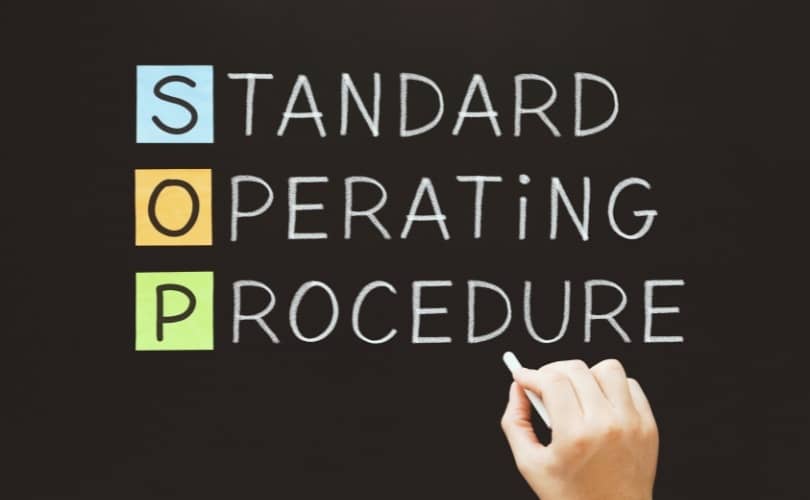 A standard operating procedure (SOP) is a set of detailed steps for doing a regular task or process.
SOPs are important for training your virtual assistant because they make sure that tasks and processes are done the same way every time. This consistency can aid in ensuring that your VA completes tasks correctly and efficiently. Furthermore, SOPs make task delegation easier and save time in the long run.
There are several best practices to follow when creating a SOP for your virtual assistant. However, you can begin with these simple steps:
Decide which task or process you want to document.
Next, divide the task or process into smaller steps.
Detail each step, including any relevant screenshots or images.
Include any relevant resources or links. Finally, test the SOP to ensure that it is accurate and simple to follow.
6. Providing Ongoing Feedback for Best Support
It's important to give your virtual assistant regular input because it lets them know how they're doing and what they can do to get better.
This feedback can help your VA feel more confident in their work and ensure that tasks are completed correctly and efficiently.
7. Using KPIs to track the progress
If you want to make sure your virtual assistant is meeting your needs and helping your business grow, you can start evaluating their work with success metrics.
With KPI or Key Performance Key Indicator, you can see where your virtual assistant needs help or training and where they're excelling by setting clear performance metrics and regularly measuring their progress against them.
The first step in using performance metrics to train and develop your virtual assistant is to figure out which KPIs are most important for their role and tasks.
Some examples of this kind of metric would be the task completion rate, work quality, response time, time management.
Once you are aware of the significance of KPIs, you can assign your virtual assistant goals that have due dates. Make sure your Filipino VA knows what to do and what you expect of them, and give them the tools they need to do a good job.
Use project management software or dashboards that track performance to keep an eye on how your virtual assistant is doing in relation to the goals you've set.
Exploring Continuous Improvement Strategies for Your Virtual Assistant to Boost Performance and Productivity.
Looking into a continuous training plan is crucial if you want your virtual assistant to be more productive and learn new skills over time.
Your virtual assistant will be better prepared to handle new obstacles and capitalize on new possibilities if you commit to a training strategy that focuses on continual progress.
This is especially helpful in fields that move quickly and where new methods and technologies are always being made available. By spending money on training and development on a regular basis, you can make sure that your virtual assistant is always at their best and stays competitive.
With ongoing training, your virtual assistant's motivation, interest in their work, and technical skills can all get better. You can show your virtual assistant how much you appreciate their hard work and dedication to their success by giving them access to training and opportunities to move up.
If you commit to a training plan that focuses on continuous improvement, your virtual assistant will be better prepared to deal with new problems and take advantage of new opportunities.